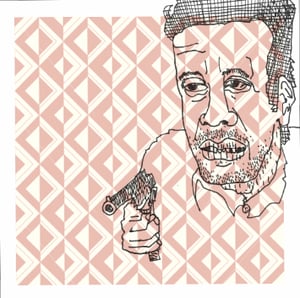 £

5.00 - On Sale
Stella Mortos is a home for decayed, glittering pop relics. It would be a misnomer to call it a record label, as no other releases are currently on the horizon. The sole reason for existence is a pair of tracks so compelling, the only sensible option was to commit them to vinyl.
Oddball producer, Entrepreneurs, is the cause for such fervour. His surefire blend of Yancey-esque beats and louche pop crooning marks him out from the rest of the pack. The debut EP, Uv Been Robbed, (Joking, But Not), is a perfectly weighted introduction to his universe.
'Hunting Roger Rabbit' is a tightly-coiled snapshot into his macabre psyche: equal parts sinister and smiles all-round. Capacious synth arpeggios flutter above a beat that pulses and cracks with deranged zeal. Vocals get thrown into the mix, a thrilling counterplay with partner-in-crime, FOE, coming to the fore. Confidence lurks weightlessly at every corner, the track unfurling in supreme fashion into a funky-bass addled guitar solo.
If 'Hunting' epitomizes the unnerving outward glare, the flipside 'Six Severed Hates' is the molten inferno underneath the skin. Coming across like a drawn-out joyride through hell, petrol-puking alien voices intersect a snarling landscape coated in a glossy metallic sheen. A mantra emerges from the melted maelstrom: be careful what you wish for.
Limited to 300 copies.
Out August 9th.
Screen printed by hand by Dan + Katrin.
*First 9 orders to come with Super-Ego CD*
Every one to come with lyric sheet.
Uv Been Robbed (Joking, But Not) coming soon.
http://soundcloud.com/entrepreneurs
http://www.myspace.com/entrepreneursmusic